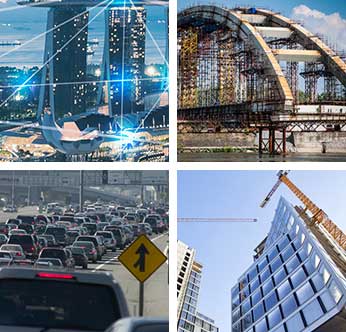 How Architecture, Engineering, Construction & Operations Are Creating Value With Digital Twins
The Digital Twin Consortium Architecture, Engineering, Construction & Operations (AECO) Working Group focuses on how digital twins can create value in the global infrastructure and on raising awareness of the importance of the technology to the future of business.
The overall goal is to create market demand for related products and services to accelerate the market.
The group is delivering standardized definitions, protocols and methodologies that enable infrastructure industries to create, apply, and use precise, knowledge-rich digital twins that replicate, simulate and evaluate the physical twin.
The work facilitates the creation of an open, interoperable information classification system based within the digital twin. This will help drive a deeper understanding of how the market and built environment ecosystem can utilize digital twins to enable  new opportunities, create efficiencies, and reach sustainability goals.
Our Key Priorities
Explore use cases in infrastructure
Include all elements of the built environment and infrastructure lifecycle.
Determine the impact on the circular economy and products integration.
Determine the required level of model fidelity.
Define and identify infrastructure applications
Explore the applicability of digital twins to different stages of the lifecycle.
Identify standards gaps and harmonization requirements.
Define semantics for built environments vs. infrastructure digital twins.
Identify various implementation scenarios
Focus on interoperability between digital twins.
Consider interactions between people, physical, and digital components.
Consider configuration scenarios to establish requirements for virtual/physical synchronization.