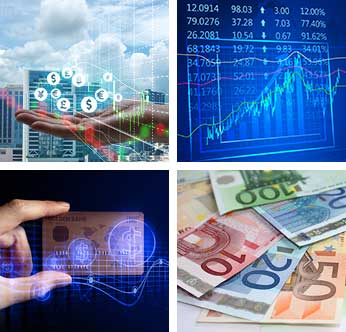 Exploring Digital Twin Use Cases in "Fin Twins," With an Eye Toward More Efficient Operations
Financial Technology, or FinTech, cuts across all industries, products, services, people, and things. It is already transforming how the flow of value, payments, ownership, information, risk, access control and managed settlements are distributed across current and evolving technologies.
While digital twin use cases are mostly developed from an operational performance perspective and for a specific domain or vertical, FinTech trends towards intangibles. FinTech digital twins work on domain-agnostic levels. The Digital Twin Consortium Financial Technology Working Group faces the challenge of turning these intangibles into tangibles.
The Working Group is dedicated to shaping this emerging sub-industry by publishing opinions and position statements relating to regulations, policies and definitions. The Group is increasing the visibility of DTC's role in the FinTech ecosystem through use cases, success stories, and position papers. It is focused on the launch and appraisal of Value Innovation Platforms, identification of gaps in standards and standards requirements, and reference implementations for digital twins.
Our Key Priorities
Identify use cases for digital twins in FinTech: "Fin Twins"
Focus on banking, insurance, and utilities applications.
Includes smart transactions such as payment initiation through settlements.
Autonomous payment including Decentralized Finance (DeFi) solutions.
Innovate new product and business models
Develop tools for collaborative ideation and use case generation.
Define FinTech ontology for a working framework and semantics.
Elicit and collate common and industry-specific applications.
Explore the applicability of current and evolving technologies and unification strategies
Identify the various implementation scenarios.
Consider cross-domain interoperability.
Incorporate the "as a service" experience, including profitability optimization.