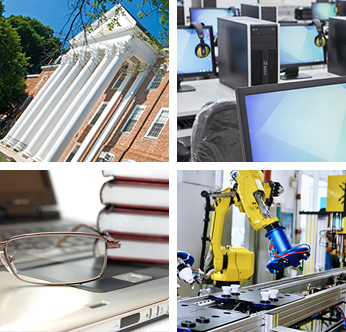 Ensuring a Bright Future for Digital Twins by Establishing Roots in Academia
Digital twin technology has its roots in academia, dating back to the work of Dr. Michael Grieves at the University of Michigan in the early 2000s. Like today, digital twin research focused on measuring the effects and benefits of creating simulation models that represent the physical asset operating in the real world. As digital twins have taken off in the marketplace, academic and research institutions have continued to play an important role in the research and development, helping to create an ecosystem rich with opportunity.
The Digital Twin Consortium's Academia & Research Working Group seeks to nurture and grow these collaborative partnerships. It is focused on enabling and assisting in establishing digital twin programs within universities and other educational institutions.
The Working Group also recognizes that the development of programs around digital twin education, training, and capability building, can be furthered through global outreach. The group collaborates with the other Consortium Working Groups, Regional Branch Organizers, and Liaisons to seek out compelling digital twin research opportunities and proof-of-concept/pilot programs with communities of like interest and Industry partners.
Through this collaboration, the Working Group works closely with both DTC Steering Committee and members to encourage the involvement of private industry to influence current and future research with Academic partners. The resulting research and education will perpetuate the evolution of digital twin technology, and highlight areas of further innovation.
The Working Group is concentrating its areas of research on implementation scenarios, evaluating digital twin models, methodologies, and enabling technologies.
The group is looking at:
Leveraging digital twins for education, future skillset development, and research to develop digital twin future direction.
Lab testing digital twin innovations for interoperability, data sharing, and value realized
Educating and fact-finding on the evolution of digital twin technology and its applicability in the market
Opening a dialog between academic/research institutions studying digital twins and enterprises deploying them
Get Involved! University & Non-profit Special Membership Offer
Our Key Priorities
Learning
Develop digital twin coursework for universities
Including showcasing early-stage use cases and how digital twins are applied in a variety of settings.
Scale up to develop an entire curriculum on how digital twins work, the value of digital twins, and the evolution of the technology.
Teaching
Establish an Educational Accelerator program and leverage program contributors and contributions for joint project development.
Launch a Digital Twin Solution Architect Training program.
Pilots
Orchestrate and develop proof-of-concept and pilot programs for digital twins.
Produce thought-leadership technical papers, blogs, webinars, and videos that promote Working Group results and highlight digital twin innovation and trends.