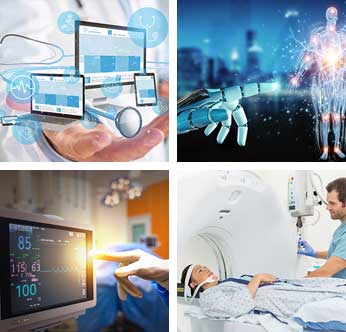 Improving Outcomes While Reducing Margins in Healthcare and Life Sciences
Healthcare-related sectors, including medical devices, pharmaceuticals, hospitals, and healthcare systems are under immense pressure to reduce expenses and improve business efficiencies while improving patient care. Digital Twins have the potential to help improve patient outcomes while at the same time creating efficiencies, improving resiliency, and meeting sustainability goals.
The group is looking at:
Reducing patient wait time
Accelerating patient turnaround
Increasing equipment utilization
Reducing staffing costs
Decreasing bed shortages
The Healthcare & Life Science Working Group focuses on the applicability of digital twin to all these sectors to improve interoperability, demonstrate the value, and accelerate the digital twin market. Emerging applications of digital twins being tracked by the group include real-time health monitoring, connected wearables, clinical trials on synthetic data, hospital digital twins for strategic planning, and dynamic digital replicas of patients.
Our Key Priorities
Explore use cases and case studies
Identify various simulation scenarios.
Define solutions for interoperability and data sharing while enabling proper governance (Privacy, HIPAA, etc.).
Identify opportunities for technology demonstration.
Define applicability for digital twins in healthcare
Different stages of pharma R&D, pharma product lifecycle, and supply chain.
Different aspects or the patient journey, including patient education and engagement.
Predictive and preventive care delivery; Healthcare management & administration .
Identify implementation scenarios
Document ways to collect accurate medical grade and real-world data from individuals.
Combine data across silos (medical, environmental, social determinants of health) towards a holistic view of healthcare.
Consider the relationship and interaction between biological/physical and digital elements.