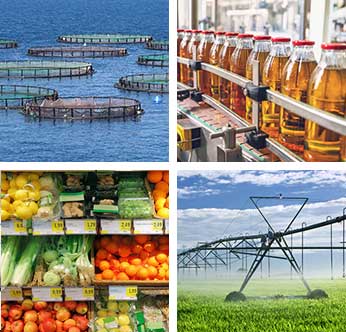 Developing Solutions for Global Consumption and Sustainability
Agriculture, food and beverage needs around the globe are growing at an incredible rate due to ever-increasing levels of consumption. Digital twins are Increasing the global sustainability of agriculture and aquaculture, delivering significant value across the entire food and beverage value chain.
Digital twins also provide the capability to address the Environment, Societal, and Governance (ESG) regulations that businesses are now required to address. The AF&B Working Group will explore the use of digital twins across the entire value chain dedicated to providing food for people and livestock and investigate areas for developing pilot programs to address the most impactful challenges.
The group is looking at:
Exploring use cases for digital twins in the areas of agriculture, food, and beverage, for both land and sea.
Defining applications of digital twins across the entire food value chain.
Exploring the spectrum of digital twin scenarios from field to fork and ocean to plate.
Developing and collaborating on Pilot programs and Value Innovation Programs.
Our Key Priorities
Publish
Expand the ecosystem through use cases, success stories, and position papers.
Define appropriate ontology for semantics and reference implementations.
Provide opinions, perspectives, and best practices guidance for regulations and policies.
Identify applications
Explore current and evolving technologies and unification strategies.
Elicit and collate common and industry-specific applications.
Develop enabling technologies and related business model innovations.
Plan future scenarios
Consider digital twin cross-domain interoperability.
Incorporate the knowledge base of the consortium's working groups and liaisons to create an "as a service" experience.
Identify gaps in standards and establish standards requirements.