Today's challenges create a growing call for organizational transformation, from sustainability requirements to digital upskilling. However, transformation is no easy task in this unprecedented business environment, even for the most experienced leaders. How can organizations accelerate product development, diversify revenue streams, and improve collaboration and decision-making while meeting sustainability targets and remaining profitable? Read on to learn more about how digital twins can facilitate digital transformation.
Digital Twin Vision
A digital twin is an aggregation of technologies that inspire transformation. It enables transformation to happen at scale with speed. The definition of this technology expands beyond a single virtual representation of a physical product. It encompasses multiple interconnected digital twins that can provide insights on anything related to the data you feed into it.
We often hear the term "Data is the New Oil" It is well understood across industries now that the story behind the data is where the unique business power and the competitive advantage are. Yet the story of the data must be relevant to the business decisions and needs to be told in a way that provides the results -value- that the business is looking for.
Acquiring and generating data alone doesn't provide value. Digital twins can play a role in processing the data and finding the relevant narrative in it. Digital twins are the orchestrator of this data story, where you can ingest data, process it, apply AI/ML techniques then put the information in the hands of the users with advanced, user-friendly visualization.
Business Model Simulation
How do we go about business transformation with Digital Twins? You can start a business model simulation with process optimization, identifying bottlenecks, inefficiencies, and areas of improvement, leveraging real-time data, advanced analytics, and simulation capabilities. Organizations can optimize their processes, streamline operations, and increase productivity by analyzing data from the digital twin.
Since digital twins enable organizations to collect and analyze large amounts of data from various sources, applying advanced analytics and machine learning algorithms to this data empowers them to make proactive decisions and take preventative actions, leading to improved operational efficiency and reduced risks. Predictive analytics is unique, and each business is different in the intelligence level they pursue and apply. It would help to put digital twins in the business process context, where business process efficiencies are created based on companies' business strategy.   
Digital Twin – A Decision Support Tool
Transparency in business operations is a key to transformation. Before solving problems or creating better solutions, understanding and knowing how things work on the ground is an enabler for creative solutions. A Digital Twin platform, when implemented at scale, aggregates data from all corners of business operations; therefore, you have one view to see your operational model and understand where transformation will make the most impact. It is valuable to have asset digital twins' data and aspire to acquire and combine data sets that put assets in the context of business operations. Systems of systems thinking, and architecture bring digital twins' value to life.
The digital twin platform must have an essential technical capability: data ingestion with different data types from various systems. This pool of data then needs to be contextualized. The context comes from business strategy and operations. Therefore, Digital twins are a powerful tool to support decision-makers in exploring alternatives, evaluating risks and benefits, and selecting the most appropriate course of action based on available information and analysis.
In addition, once discovering that some operational decisions are repetitive, digital twins automate decision-making processes, applying rules and algorithms, which is particularly useful for creating efficiencies. Because every business is different, steps taken to support and automate decisions in digital twins must be tailored and customized. Also, foundational technical capabilities must be present in the technology architecture to enable value creation in digital twins. Digital twins aim to enhance decision-making processes by reducing uncertainty, improving efficiency, and promoting data-driven insights, accelerating transformation significantly.
Digital Twins for Collaboration / Information Sharing
Collaboration became center stage during the pandemic as companies scrambled to communicate and get work done in a fully remote environment. However, it is essential to differentiate between collaboration and communication. Communication is centered around knowledge-sharing, while real collaboration puts this knowledge to good use. Making information available in digital twins is one milestone in facilitating communication.
Still, data modeling and analysis in digital twins also employ specialized techniques and algorithms to process and analyze data, identifying patterns, trends, and relationships that contextualize and put knowledge to good use before distributing it amongst stakeholders. Streamlining communication and collaboration has immeasurable benefits for transformation. It makes things run faster and smoother with less conflict and high productivity. When designed and implemented to visualize the organization and its operational model, Digital Twins will transform organizations at speed. Effectively executing transformation with collaboration is the core of success for business in the long term.
Digital Twins for Digital Upskilling
Data visualization is essential for contextualization. Once all the data is in one place, digital twins can enable an interactive approach to consume the available data. Often the technical capability for data processing, intelligence, and advanced visualization is not available in one product. With a tailored digital twin design, you can implement and integrate different tools. Innovators today are calling advanced gamification tools such as A/VR and the Metaverse digital twins. Yet that is only the shell.
The visualization shell, data story, context, and use cases must be implemented within the digital twin for visualization in traditional and straightforward tools such as dashboards or creative and exciting tools such as the VR/AR and the Metaverse. The power of interactive visualization is in enabling immersive learning and digital upskilling for employees; it also increases adoption making data accessible and easy to use.
About the Author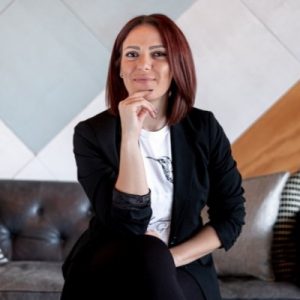 Eman Kawas
Co-founder and Connected Operations – Digital Twin Architect, Thynkli