Save the date for Austin, TX!
Employees of all Digital Twin Consortium member organizations are cordially invited to the Q4 Member Meeting to be held in Austin! We are looking forward to seeing everyone face-to-face.
We are filling up the 2 1/2-day agenda with Keynotes, Working Group updates, Customer Case Studies, Technology Showcases, Member Presentations, Hands-on Workshops, and a Build-a-thon.
You will have the opportunity to share ideas and collaborate in person with the leading digital twin experts in the world, including representatives from Ansys, Autodesk, Dell, GE Digital, Johnson Controls, Lendlease, Microsoft, Northrop Grumman, and others.
Our program will be held in parallel with the quarterly events of our sister consortia: Object Management Group® and Industry IoT Consortium® and there will be plenty of opportunities for discussion and cross-collaboration.
There will be shared plenaries, presentations, and social mixer opportunities. Watch this space for more information – we will post events as soon as they become available. We can't wait to see you there!
Member cost
$595 - Full Price
$495 - Early Bird Price
(register before October 28th)
Location
Hyatt Regency Austin
208 Barton Springs
Austin, Texas 78704 USA
+1 512 477 1234
Hotel Information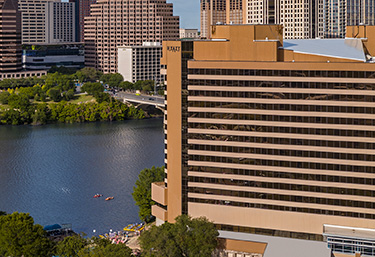 Book your room before November 11 and receive the discounted room rate of $189/night (+ 17% applicable taxes and service fees).
Tentative Agenda
Check back for frequent updates! Agenda times are Central Time zone.

Tuesday, December 6
9:00 Registration and Welcome
9:15 Keynote
9:45 Keynote
10:30 Break
11:00 Technology Showcase Update
11:45 Technology Showcase Update
12:30 Lunch
1:30 Working Group Update
2:00 Technology Showcase
2:30 Regional Branch Organizer Updates
3:15 Break
3:30 Hands-on Workshops
4:45 Closing Remarks
Wednesday,  December 7
9:00 Registration and Welcome
9:15 Keynote
9:45 Keynote
10:30 Break
11:00 Guest Presentation
11:45 Guest Presentation
12:30 Lunch
1:30 Working Group Update
2:00 Technology Showcase
2:30 Regional Branch Organizer Updates
3:15 Break
3:30 Build-a-thon
4:45 Closing Remarks
Thursday, December 8
9:00 Registration and Welcome
9:15 Keynote
10:00 Q&A, Member Feedback and Brainstorming
10:30am Meeting Wrap-up and Next Steps
11:00am Special Member Event