Barcelona, Spain
31 January - 2 February, 2023
Game-Changing Technologies for Industry Transformation
Iot Solutions World Congress presents a global crossroads for business and tech executives looking to transform industries through powerful digital innovation initiatives. Over 16,000 attendees are expected to attend #IOTSWC2023 in search of innovative, disruptive, game-changing outcomes.
Digital Twin Consortium Member Pavilion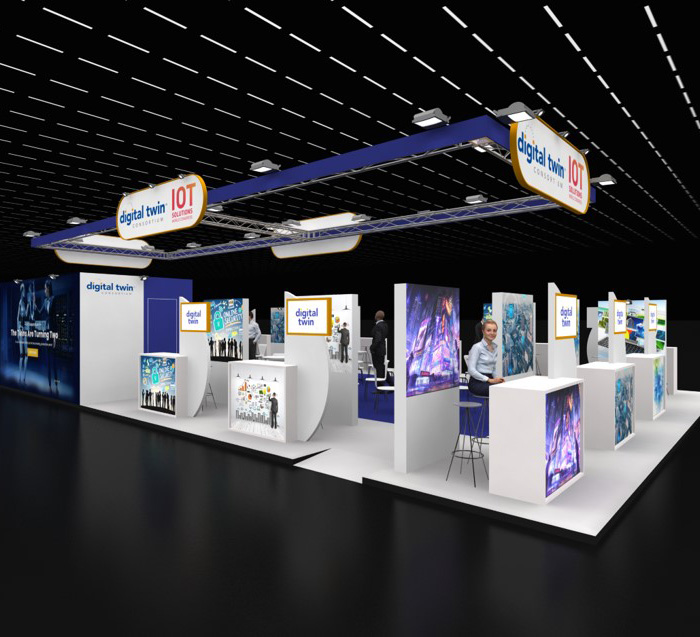 A pedestal in the Digital Twin Consortium Pavilion at IOTSWC offers high-visibility, low-cost participation in one of Europe's leading technology trade shows, with over 16,000 guests expected to participate in the 2023 event. For an all-inclusive price of 6,900 Euros, each Digital Twin Consortium member organization receives its own individually branded pedestal (with monitor and seating) inside the DTC-branded pavilion, including custom graphics, electricity, Wi-Fi, and personal locked storage.
Digital Twin Consortium marketing support for members joining us in the pedestal will include:
Pre-conference planning meetings, marketing tool-kit and co-marketing plan
Event page on DTC website promoting exhibitors and speakers
Daily live cast summary of events
Pavilion demo opportunities
Panel discussion with exhibitors
Coffee bar and informal meeting space
Request information Download the Exhibitor Form
Register here for your Discount Congress pass and Free Expo pass!
FREE Expo+ pass
Use Code: LB8NKZ74
To obtain your FREE Expo+ pass use the code above.
discount Conference pass
Use Code: A5MTAMNZ
For discount Conference pass (535€) use the code above
Call for Speakers (deadline Sept. 30)
More than 250 ground-breaking speakers will take the stage in Barcelona to share their use cases around the transformative power of disruptive technologies including IoT, AI, digital twin, 5G, edge, augmented reality, quantum computing and more. Join them on stage!
Call for Testbeds
Testbeds are experimentation platforms deployed and tested in an environment that resembles real world conditions. They show how new technologies & services (Industry IoT solutions, Cybersecurity solutions, Digital Twins, Artificial Intelligence, Augmented Reality and disruptive technologies) can be usefully deployed. The testbeds are strategically placed in our exhibition floor giving our attendees the opportunity to experience the most advanced and innovative solutions.