Are you ready to take your digital twin skills to the next level? Our all-day interactive training event is designed to help you do just that. In a series of workshops, you'll learn from experts in the field and gain hands-on experience building and working with digital twins.
Our training event is available to individuals across all industries. Attendees can select one workshop from each four-hour block session. Each is guaranteed to challenge you and help you build your skills, and you'll have the opportunity to network with other attendees and digital twin experts. Don't miss this unique opportunity to enhance capabilities within your industry, explore how to solve real-world problems with digital twins, and elevate your skills. Register now and join us for a day of hands-on learning. We can't wait to see you there!
Register by February 28th to secure early bird pricing!
Workshops
All workshops are available in both the morning and afternoon session blocks. Lunch and coffee breaks are included in pricing.
Using Digital Twins to understand transportation, mobility and net zero strategies and operations
Workshop leader: Dr. David McKee, CEO, Slingshot Simulations
This workshop will focus on using a digital twin to look at transportation, mobility, and net zero strategies and operations, introducing you to the Slingshot Simulations Compass: Engine SaaS platform that enables the rapid construction of digital twins. Participants will configure the data and simulation parts of a transportation/mobility digital twin and learn how to integrate data, configure with no-code traffic simulations, and build analytical dashboards. You will also examine how a digital twin can be used to plan intervention strategies.
The course will be hands-on and will involve practical exercises and case studies. Participants will gain a deep understanding of the capabilities and limitations of using digital twin technology in transportation and mobility.
Prerequisites: Personal laptop – attendees will work online and training data will be provided to them
How to create a Virtual Twin of a Medical Device
Workshop leader: Philippe Delannoy, Industrial Equipment Industry Solution Experience Director, Dassault Systèmes
This training session will demonstrate how to create the Virtual Twin of a new type of hearing aid medical device. In this session, you will learn how to manage new requirements, create the system's architecture with multiple variants, which you will be able analyze and simulate virtually. You will also be able to link this system's architecture to a 3D Virtual Representation, which will demonstrate how you can achieve full traceability using a Virtual Twin.
Prerequisites: Personal laptop – the demo will be available from the Cloud at the session
PRICING:
DTC Members: $295
( Non-Members: $395)
Hotel Information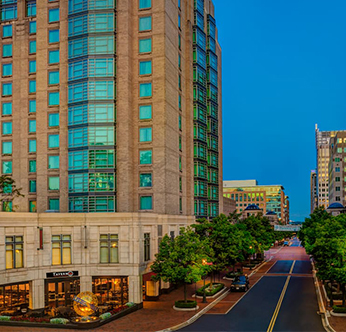 Hyatt Regency Reston Town Center Hotel
1800 Presidents St.
Reston, VA 20190 USA
Tel: +1 (703) 709-1234
ROOM RATES:
Single/Double Occupancy: USD$259.00
(plus 12% State & Local Taxes)
After this date, while standard rooms are available
To reserve a discounted room - CLICK HERE.
If you require a Gov't Rate room - CLICK HERE.
AIRLINE AND CAR RENTAL DISCOUNTS:
For airline and car rental info
Composing Digital Twins – Benefits and Values
Workshop leader: Pieter Van Schalkwyk, CEO, XMPro
This workshop on Composable Digital Twins is the perfect opportunity to explore the latest technological advancements and uncover how to harness the full potential of digital twin technology. You will learn how to create digital twins that can improve your business operations and optimize your processes, giving you a competitive edge in today's ever-changing market. And with the added benefit of composability, you will learn how to design and build digital twins that can seamlessly integrate with other cutting-edge technologies such as IoT, AI, and AR/VR.
By the end of this workshop, you will have the knowledge and skills to tailor your own digital twins to your specific needs. So, buckle up and get ready to unlock the full potential of digital twin technology and discover how it can transform your business.
Prerequisites: Personal laptop. 90-day account access will be provided.
Build, deploy, and test your own live digital twin
Workshop leader: Sean Whitely, CEO, Axomem
In this session, attendees will import and build 3d assets to a configured Unity environment and compile them ready for deployment. The workshop will include learnings on integrating historical and live data into the 3d model using Axomem's xWorld module and xBase server.
Attendees will have the opportunity to test their 3d twin with AR (HoloLens2) and VR (Quest2) devices on the day and receive feedback on how to maximize performance. Your private digital twin will be accessible via the Internet and viewable on browsers, PC, tablets and VR / AR headsets for 3 months after the event (with a possible extension).
Prerequisites: Personal laptop – attendees will be using a personal edition of Unity. The minimum Unity Editor requirements are posted here Unity - Manual: System requirements for Unity 2021.1 (unity3d.com). For Windows, we recommend Windows 10/11, at least 8GB RAM and i5 or equivalent processor