We're going virtual!
Register now for our Q1 2022 Member Meeting: March 8 - 10.

We are filling up the 3-day with exceptional keynote presentations, working group updates, technology showcases, member presentations, hands-on workshops and a panel presentation from the Steering Committee.
We are excited by the opportunities an online meeting affords, including the possibility of virtual attendance from anywhere on the globe for our members and invited speakers. It will be great to see you there!
Keynote: The Role of Digital Twins in Spacecraft Design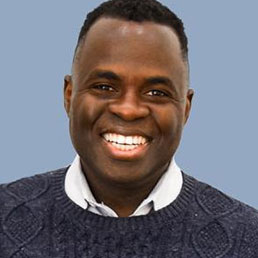 Amalaye Oyake, Flight Software Lead, Space Robot Operating System (Space ROS), Blue Origin
Back by popular demand for those members who were not able to attend Amalaye's "out of this world" presentation at the Q4 Member Meeting in Long Beach. Join us for a keynote presentation on the Space Robot Operating System, a new collaboration between Blue Origin and NASA. Discussion will focus on the growing complexity of space missions, the importance of open source as it relates to space station development, and the value of Digital Twins in the simulation of the Orbital Reef.
Keynote: Digital Twins in Real Estate: The Chrysler Building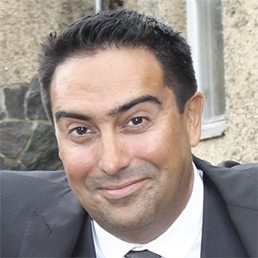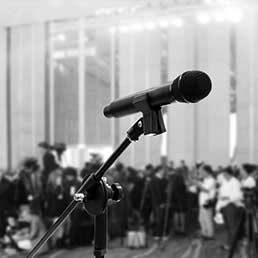 Luther Garcia, President & CEO of Animated Insights (left) and Christopher Pancoast, Chief Engineer, Chrysler Building (right)
In this keynote address, look inside how the Digital Twin has transformed The Chrysler Building, built between 1928 and 1930, into an intelligent one - driving excellence in service quality, control, and cost efficiency..
Keynote: Digital Twins in Healthcare – a Philips Perspective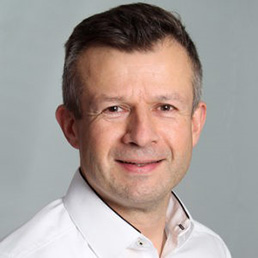 Ger Janssen, head of the Digital Twin department in Philips Research and also Program Manager, Patient Digital Twin solutions, will discuss how digital twins can be used to address better health outcome, better patient and staff satisfaction against lower costs. In this presentation, Ger will share Philips' vision on digital twin, combining devices, systems, hospitals and patients and address the current status, and challenges to be solved.
Tuesday March 8
time (EST)
presentation
11:00 - 12:00

Welcome

Keynote: The Role of Digital Twins in Spacecraft Design
Amalaye Oyake, Flight Software Lead, Space Robot Operating System (Space ROS), Blue Origin

12:00 - 13:00

Working Group Updates
Gain insight into the latest working group activities, including our new Mobility & Transportation, New Energy, and Academia & Research groups and learn about new opportunities to contribute your thought leadership, innovations and best practices

13:00 - 13:20

System-of-Systems Relationships - Why They Matter
Anto Budiardjo, Padi

System-of-Systems (SoS) is a critical concept for digital twins. The Joint DTC-IIC Interop Working Group is developing a technical paper to uncover how SoSs can form the basis of a scalable digital twin of interoperable systems. The WG has concluded that the relationship between constituent systems within an SoS is a key concept to build a dynamic and scalable SoS. In this session, the co-chairs of the WG will present why and how system relationships can be the key to unleash the value from System-of-Systems.

Co-chairs: Anto Budiardjo and Shi-Wan Lin

13:20 - 13:40

Capabilities Periodic Table for Composable Digital Twin Framework
Pieter Van Schalkwyk, XMPro

This session introduces the composable Digital Twin Framework. This includes the soon to be published Digital Twin Capabilities Periodic Table (CPT), an architectural and technology agnostic requirements definition framework. It is aimed at organizations who want to design, develop, deploy, and operate Digital Twins based on use case capability requirements versus the features of technology solutions. An interactive ideation workshop, using the CPT, is scheduled for the following day at 1:20pm ET .

13:40 - 14:00

Exploring Planetary Effects Using Digital Twins
Bruce Leybourne, Stellar Transformer

This presentation provides a brief introduction to Mars Induction Explorer, exhibiting Mars auroral effects and similar events on Earth, relationships with magnetic data, and digital twins of the Mars Rover and Helicopter on HD digital terrain models.

Wrap Up & Closing
Wednesday March 9
time (EST)
presentation
11:00 - 12:00

Introduction and Recap

Keynote - Digital Twins in Real Estate: The Chrysler Building
Luther Garcia, President & CEO of Animated Insights and Christopher Pancoast, Chief Engineer, Chrysler Building

In this keynote address, look inside how the Digital Twin has transformed The Chrysler Building, built between 1928 and 1930, into an intelligent one - driving excellence in service quality, control and cost efficiency.

12:00 - 13:20

Regional Branch Updates
UK, Canada, Italy, Spain, Netherlands

Hear directly from our global Regional Branch Organizers on their work and collaboration opportunities

13:20 - 13:40

Ideation Workshop - Digital Twin Capabilities Periodic Table (CPT)
Pieter van Schalkwyck, XMPro / John Reynolds, Agile Fractal Grid

This highly interactive workshop will explore opportunities to use and expand the Digital Twin Capabilities Periodic Table (CPT). Attendees will use the Miro collaborative whiteboard to ideate around:

Using the CPT in other content and context for use across working groups?
Expanding to the next levels of capability that sit below each of the higher-order blocks?

13:40 - 14:00

Introduction to Reality Capture and Whitepaper Panel Discussion with Authors
John Turner, Gafcon

Wrap Up & Closing
Thursday March 10
time (EST)
presentation
11:00 - 11:40

Introduction and Recap

Digital Twins in Healthcare – a Philips Perspective
Ger Janssen, Philips Technology

11:40 - 12:00
Digital twins for Ports - Enabling Autonomous Shipping
Karno Tenovuo, CEO, Awake AI Piet Opstaele, Innovation Lead, Manager Innovation Enablement, Port of Antwerp


12:00 - 13:00

Liaison Updates

Hear about the latest associations/institutions the DTC has liaisons with and how to participate

13:00 - 13:40

The IoT Security Maturity Model Digital Twin Profile
Ron Zahavi, Microsoft / Jon Geater, Jitsuin

The product of joint collaboration between the IIC and DTC, this work represents the first exploration of what security means in the context of digital twins. The presentation will include a brief overview of the IoT SMM and then present some of the specific findings in the profile.

13:40 - 14:00

Summary / Wrap Up / Next Opportunities

Closing
---