Digital Twin Consortium Mini-Workshops at SMC-IT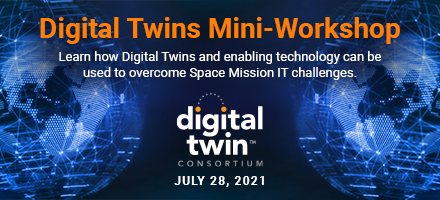 Join the Digital Twin Consortium at the 8th IEEE International Conference on Space Mission Challenges for Information Technology (SMC-IT 2021).
We're honored to have been invited to present two mini-workshops exploring the role of Digital Twins and enabling technology in tackling challenges in Space-IT. From remote monitoring of vital health stats via Digital Twin of the Self, to in-space additive manufacturing, to on-board real-time event decision and control, Digital Twins are being leveraged today for Space missions to monitor, diagnose, and improve secure data transfer, predictive maintenance operation and optimize performance and result outcomes.
Keynote Presenters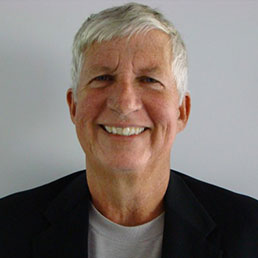 Dr. Michael Grieves
Executive Director,
Digital Twin Institute
Title: Introduction to Digital Twins - Past Present and Future
Abstract: This Introductory session will spans the evolution of the digital twin. The session includes an historical perspective from the original concept to the present status with a view to the future. Use cases and implementation aspects along with challenges encountered will be discussed.
John Vickers
Principal Technologist, Advanced Manufacturing, National Aeronautics and Space Administration (NASA)
Title: Advancing In-Space Manufacturing using Digital Twins
Abstract:
This session will present the latest advances in additive manufacturing for In-Space manufacturing.
The role of Digital Twins in addressing these issues with innovative solutions will be discussed.
Speakers:
CEO, Stellar Transformer Technologies


Bruce A. Leybourne

Chief Technical Officer of Digital Twin Consortium


Dan Isaacs

Advisor, Stellar Transformer Technologies


Giovanni P. Gregori

Chief Executive Officer, Slingshot Simulations


David McKee
Visualization, Slingshot Simulations


Alex Trout

CEO, Argos.Vu


David Johnson

Senior Director, Product Development, Ansys Company


Sameer Kher, M.S., M.B.A.,

Chief Technology Officer, AGI, an Ansys Company


Shashank Narayan
Chief Technology Officer, Argyle Technology


Logan Smith

Head of Business and Product Strategy, twinzo


Tomas Vojtek
Agenda
(Agenda reflects Pacific Time)
time
presentation
10:00am
Keynote Address: Introduction to Digital Twins - Past Present and Future
Dr. Michael Grieves, Executive Director, Digital Twin Institute

This Introductory session will span the evolution of the digital twin. The session includes an historical perspective from the original concept to the present status with a view to the future. Use cases and implementation aspects along with challenges encountered will be discussed.
10:30am
Overcoming Space Mission Challenges with Simulation-Based Digital Twins
Shashank Narayan, Chief Technology Officer, AGI, an Ansys company and Sameer Kher, Senior Director, Product Development, Ansys

This session will explore best practices for building, validating, and deploying digital twins, particularly in the context of space missions with a particular focus on using design reference missions to create and evolve digital twins throughout the life cycle of the mission.
10:50am
TBD
11:10am
Live 3D Digital Twin for Better Mission Control
Tomas Vojtek, Head of Business and Product Strategy, twinzo

This session will explore how twinzo live Digital Twin can transform high-level mission control by experiencing real-time data in a context of interactive 3D model on any smart device 24/7/365. Interact with sensorics data or real-time positions of the astronauts. Build specialized applications using twinzo platform, to analyze or act using aggregated data and easy to use UI. Discover how twinzo can serve as popularization tool for millions of users that want to experience real ISS on their mobile devices.
11:30am
Introduction: Working with Digital Twins and Review of Agenda: Data Simulations-Presentations and Workshop Breakouts
Bruce A. Leybourne, CEO, Stellar Transformer Technologies
11:45
Introduction to the Digital Twin Consortium
Dan Isaacs, Chief Technology Officer, Digital Twin Consortium
12:00pm
Simulation of Lightning Flash and Ground-based Detection of Induction Events
David McKee, Chief Executive Officer and Alex Trout, Visualization, Slingshot Simulations
12:30pm
Exploration of Electromagnetic Energy Between Stars Planets and Planetary Objects Using Digital Twins
Giovanni P. Gregori, Advisor, Stellar Transformer Technologies

This session focuses on a fundamental problem in physics, as addressed by the Stellar Transformer concept with Predictive Digital Twins. A current bias of the gravitational field model consequently ignores induction effects from long wavelength Electro-Magnetic (EM) energy. We will explore the competing and complementary role of Gravity vs. EM interactions, with implication on the endogenous energy source of stars, planets, and planetary objects. We will consider that the fundamental problem treating these waves as strictly gravitational is only "tidal friction" effects. When additionally treated as long wavelength EM, axial and radial EM induction forcing on Earth becomes apparent, when before only frictional heating was considered with gravity.
1:00pm
Keynote Address: Advancing In-Space Manufacturing using Digital Twins
John Vickers, Principal Technologist, Advanced Manufacturing, National Aeronautics and Space Administration (NASA)

This session will present the latest advances in additive manufacturing for In-Space manufacturing. The role of Digital Twins in addressing these issues with innovative solutions will be discussed.
1:30pm
Virtual Reality Demo: Simulation of UV Auroral Pulses on Mars Demonstrating Vertical Induction Effects from Crustal Magnetic Anomalies
David Johnson – CEO, Argos.Vu
2:00pm
Data Simulation of Stellar Transformer Processes: Earth-Mars-Sun Predictive Digital Twins
Bruce A. Leybourne – CEO, Stellar Transformer Technologies

The Predictive Digital Twin composite representation encompasses a virtual solar system synchronized to Stellar Transformer EM energy induction processes between Earth-Mars-Sun. Lightning simulations using NASA flash data show a diurnal N-S mid-ocean ridge axial induction effect on earth driving lightning hotspots pulses. While modeling the Mars–Sun system as a Stellar Transformer may explain the "magnetic pulses" at local midnight with a magnetic impulse induction model. Research indicates Mars UV-auroral pulses are driven by an induction power surge when magnetic moment alignment of crustal magnetic anomalies deep under Martian-ground aligns with elements of the solar magnetic moment.
2:20pm
Augmented Reality in Microgravity
Logan Smith, Chief Technology Officer, Argyle Technology

Whether hands free mobile displays or in situ data overly, head-mounted augmented reality offers much to improve productivity and reduce human error in space. Unfortunately, existing solutions for tracking and holographic overlay alignment tend to rely on, or at least assume, earth gravity. Nothing inherent to a microgravity environment would make AR tracking impossible but several factors need to be considered. First, the high-frequency camera pose estimation uses SLAM, which relies on data from IMU sensors, which, by default accommodate the acceleration of gravity in their base measurements. Second, most holographic alignment strategies assume a consistent down direction. This session will explore strategies to mitigate these limitations.
2:40pm
Summary and open discussion with all participants
Bruce A. Leybourne – CEO, Stellar Transformer Technologies
3:00pm
Workshop Adjourns
---