Membership tiers are based on annual revenues
Digital Twin Consortium offers membership tiers based on your organization's revenue. Member services correspond with these tiers, as shown in this table.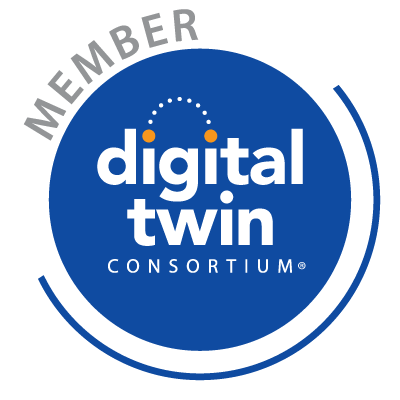 Contributing Members
Revenue $200M+
Revenue $50M-$200M
Revenue $5M-$50M
Revenue up to $5M
Government
University/Non-Profit
$0 Revenue Startup
---
CONTRIBUTING MEMBERS
Contributing Members acquire a leadership position governing the Digital Twin Consortium. New and re-elected Contributing Members are selected by the other members in the Contributing Member category during the annual election cycle. Contributing Members receive the following benefits:
Steering Committee Seat. Four-year commitment with a guaranteed seat.
Branding. Acknowledgement as Contributing Members on the Digital Twin Consortium website, collateral, conference presentations, analysts and media interviews and all other public and internal membership materials
Quarterly Meeting Passes. Four passes for use by anyone in your organization.
Quarterly Exhibit Table. An exhibit table at our quarterly meetings.
Post White Papers. Enhanced marcom promotions, including posting digital twin white papers.
Event Promotion. Enhanced event support, including promotion of your events on the Digital Twin Consortium Events Page plus social media support.
Co-Branded Webinar. Ability to co-brand and host a use-case-centric or thought leadership style Webinar on the Digital Twin Consortium Webinar platform, BrightTALK.
Please contact your account representative for complete pricing information.
---
MEMBERSHIP TIERS
REVENUE $200M+. Organizations with revenues of $200M or higher.
REVENUE $50M-$200M. Organizations with revenues between $50M and $200M.
REVENUE $5M-$50M. Organizations with revenues between $5M and $50M.
REVENUE UP TO $5M. Organizations with revenues up to $5M.
GOVERNMENT. Government members represent town, county, state and federal agencies.
UNIVERSITY/NON-PROFIT. Academia and non-profit members represent universities and organizations who are registered as tax exempt organizations.
$0 REVENUE START-UP. No revenue and start up members are defined as companies in existence three years or less OR have an annual revenue under $1 million. Membership level is free only for the first year. Details may be required to confirm eligibility. Your organization can qualify for a second free year by participating in activities that will help the Consortium grow. Please contact your account representative for the list of activities.
BRANDING UPGRADES. Branding upgrade packages are available to members in good standing to provide additional marketing opportunities and exposure for their organizations.
There are opportunities to represent DTC at industry conferences.
---
TERMS & CONDITIONS OF MEMBERSHIP
The Digital Twin Consortium is organized under Object Management Group® (OMG®)'s 501(c) (6) not-for-profit status. It operates under OMG's existing governance, policies and procedures under the oversight of the Digital Twin Consortium Steering Committee. Review the bylaws of the Digital Twin Consortium here.
---
Have a question about membership? One of our staff will be happy to assist you.
---
This page is also available in PDF format