Join the Digital Twin Consortium today and collaborate with the industry's leading technologists!
Improve interoperability of digital twin technologies
Ensure digital twin models interoperate throughout your product lifecycle
Develop best practices for security, privacy and trustworthiness
Create library of reference implementations for digital twins
---
Accelerate the market
Set de facto industry guidelines for digital twin technology
Develop industry requirements for new digital twin standards
Reduce the skills gap by getting your employees involved
---
Demonstrate the value to maximize your outcomes
Integrate existing source code into your system
Help influence the direction of the market and get your project online faster
Combine your resources and reduce your risk
Become a member Interested in Branding Upgrade Reach Out to Us Meet Our Members Bylaws Cross Participation
---
Mission
Digital Twin Consortium drives the adoption, use, interoperability and development of digital twin technology. It propels the innovation of digital twin technology through consistent approaches and open source development. It is committed to accelerating the market and guiding outcomes for users.
Vision
The goal of the consortium is to be The Authority in Digital Twin as it relates to policy, security, interoperability and overall development of digital twins. The consortium will define the ecosystem, standards requirements, architectures, open source code, identify gaps, and publish statements and opinions. This will be done in partnership between industry, academia and government in a collaborative open environment.
Digital Twin Consortium membership benefits
MEMBERSHIP TIERS ARE BASED ON ANNUAL REVENUES
Digital Twin Consortium offers membership tiers based on your organization's revenue. Member services correspond with these tiers, as shown in this table.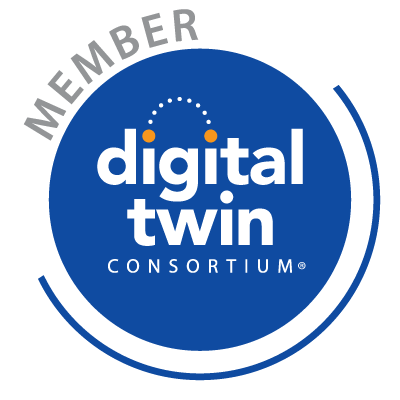 ---
Contributing Members
Revenue $200M+
Revenue $50M-$200M
Revenue $5M-$50M
Revenue up to $5M
Government
University/Non-Profit
$0 Revenue Startup
Get Involved!
Please contact your account representative for complete pricing information.
WORKING GROUPS
Every member is eligible to participate in Working Groups, which are teams of members that collaborate to address the technology and business needs of specific vertical and horizontal markets. Members can also suggest additional Working Groups pending Steering Committee approval.
BENEFITS FOR ALL MEMBERS
Digital Twin Consortium benefits extend to all employees of your organization. Complete benefits for all members are shown here:
Promotional Opportunities.
Publish your company's listing in the member directory on our website; Your logo will appear in relevant collateral, conference presentations, analyst and media reviews.
Working Groups
Eligibility to participate in and chair Working Groups and help drive their focus and direction. Members can suggest new Working Groups that add to the focus areas of the consortium.
Sub-Groups and Tiger Teams
All members can participate in teams across verticals. Current projects include Security & Trustworthiness, Interoperability, Modeling & Simulation, and Business Maturity.
Networking
Collaborate and brainstorm with industry peers within Working Groups and at Quarterly Member meetings.
Shape the Future
Our members influence best practices, and future standard requirements for digital twin technology, architecture, and frameworks.
Thought Leadership
Receive industry recognition as a leader in digital twin through your association with the Consortium.
Marketing Amplification
Receive social media support (Twitter and LinkedIn) for your digital twin-related events and publications.
Branding
Display the Digital Twin Consortium membership badge in your personal and corporate branding materials.
Exclusive Content
Gain access to member-exclusive Use Cases, Presentations, and Videos in our member portal.
If your organization is also a member of Object Management Group® or Industrial Internet Consortium®, you may qualify for an annual multi-program discount. The Founding Member level for Digital Twin Consortium is closed. Contributing Member status provides the same benefits as Founding Member and includes a seat on the Steering Committee.
Please contact your account representative for complete pricing information.
CONTRIBUTING MEMBERS
Contributing Members acquire a leadership position governing the Digital Twin Consortium. New and re-elected Contributing Members are selected by the other members in the Contributing Member category during the annual election cycle. Contributing Members receive the following benefits:
Steering Committee Seat. Four-year commitment with a guaranteed seat.
Branding. Acknowledgement as Contributing Members on the Digital Twin Consortium website, collateral, conference presentations, analysts and media interviews and all other public and internal membership materials
Quarterly Meeting Passes. Four passes for use by anyone in your organization.
Quarterly Exhibit Table. An exhibit table at our quarterly meetings.
Post White Papers. Enhanced marcom promotions, including posting digital twin white papers.
Event Promotion. Enhanced event support, including promotion of your events on the Digital Twin Consortium Events Page plus social media support.
Co-Branded Webinar. Ability to co-brand and host a use-case-centric or thought leadership style Webinar on the Digital Twin Consortium Webinar platform, BrightTALK.
Please contact your account representative for complete pricing information.
MEMBERSHIP TIERS
REVENUE $200M+. Organizations with revenues of $200M or higher.
REVENUE $50M-$200M. Organizations with revenues between $50M and $200M.
REVENUE $5M-$50M. Organizations with revenues between $5M and $50M.
REVENUE UP TO $5M. Organizations with revenues up to $5M.
GOVERNMENT. Government members represent town, county, state and federal agencies.
UNIVERSITY/NON-PROFIT. Academia and non-profit members represent universities and organizations who are registered as tax exempt organizations.
$0 REVENUE START-UP. No revenue and start up members are defined as companies in existence three years or less OR have an annual revenue under $1 million. Membership level is free only for the first year. Details may be required to confirm eligibility. Your organization can qualify for a second free year by participating in activities that will help the Consortium grow. Please contact your account representative for the list of activities.
BRANDING UPGRADES. Branding upgrade packages are available to members in good standing to provide additional marketing opportunities and exposure for their organizations.
There are opportunities to represent DTC at industry conferences.
TERMS & CONDITIONS OF MEMBERSHIP
The Digital Twin Consortium is organized under Object Management Group® (OMG®)'s 501(c) (6) not-for-profit status. It operates under OMG's existing governance, policies and procedures under the oversight of the Digital Twin Consortium Steering Committee. Review the bylaws of the Digital Twin Consortium here.
Have a question about membership? One of our staff will be happy to assist you.
---
This page is also available in PDF format