Developing a common vocabulary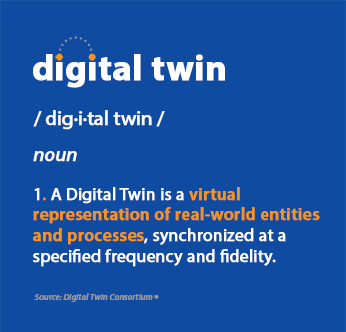 The term Digital Twin is being used with increasing frequency, but with little consistency, across multiple industries today. Technologies enabling digital twins have evolved considerably, while a simple taxonomy/ontology/vocabulary for the concept itself has not. To date, while many have built upon the term with their own opinions of its definition; there has been no concentrated multi-party (industry enterprise, non-profit, and academic) effort to harmonize definitions and representations of digital twins in order to put forward a single, authoritative definition to bolster common understanding of not only the base definition of a digital twin, but also its multiple variants and applications.
Digital Twin Consortium will fill this void by recommending a preferred definition, taxonomy, and, ultimately, hierarchy of digital twins to enable the industry to speak with a common vocabulary on this concept – enabling better understanding through shared definition and vernacular.